Shop News
Odyssey Putters
---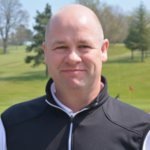 Simon Housley
PGA Professional & Golf Manager Sickleholme Golf Club
We have the new range of Odyssey putters in stock, pop in the shop and try one out in the studio!

The Putter is the club that you take the most shots with per round, so it makes sense that you play with a putter that you feel most comfortable with on the greens as it could save you plenty of shots.

From mallet putters to blade putters, we have a great selection of heads and shaft lengths to try, so be sure to take a look next time you're in the Pro Shop.